The Elite Hunter Pro Series is the next evolution in essential tools for the hard core angler who demands the best. They have no comparison in the industry. Made from the toughest and most durable material currently available! The EHPS series offers unmatched detail to excellence, while incorporating nostalgia, quality and key features in every facet of the way they are designed and made. Every piece of material, component and part is saltwater grade, assuring you maximum durability against the affects from the marine environment. Each piece is meticulously assembled to provide you, the user with the most durable, most functional, best built gear you can buy or will ever need.
With the Elite Hunter Pro Series, you will discover that our focus was to raise the bar for our already high standards and expectations for exacting quality and performance, to a whole new level. We have created this upgraded line of gear and are proud to introduce the Elite Hunter Pro Series with the "hardcore" fisherman in mind.
Within our fishing community there is a small "niche-group" of fishermen who demand the most reliable gear and cannot tempt fate while far out, on a submerged offshore rock or sandbar with a ripping tide. These fishermen expect the best and AquaSkinz has stepped up to build the most demanding fisherman, the toughest gear they will ever need!
Click here for a detailed look into each product.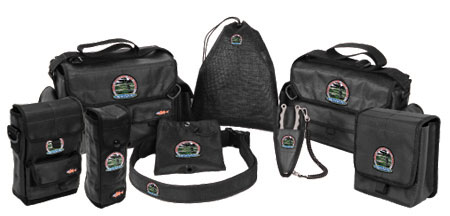 They are proudly made by master craftsmen in the USA.

Our Goal:
---
When we set out to develop this new series, we asked what will it require? How will we achieve our goal to build the best gear for the most demanding anglers, who fish in the most extreme conditions? We knew we would have to combine the toughest materials, with workhorse equipment, master craftsmen, superior designs and good old fashioned American muscle! We also knew they had to withstand the roughest conditions, the toughest use and be built without compromise for constant use in the marine industry. In order to reach this objective, we searched out the newest & best marine grade materials, found the best components and manufacturing that could meet our quality standards and expectations. Each product is handcrafted, using only the finest materials available today; many of which meet or exceed military standards and are readily used for special applications for the US military, marine industry and the medical industry
We very much appreciate your support throughout the years we have been able to serve you. We remain devoted and committed to excellence and to delivering you the products that will serve you well and ones we are proud to stand behind. THANK YOU FOR YOUR SUPPORT.